Mercedes-Benz is working on Level 3 autonomous technology to be fitted to the next S-Class that will enable it to handle complicated road scenarios without human input.
The Audi A8 and BMW 7 Series rival, set for reveal at the Frankfurt motor show before arriving in showrooms in 2020, will evolve Mercedes' Distronic Active Proximity Control and Active Steer Assist systems to achieve its most advanced autonomous mode yet.
The current S-Class can achieve Level 2 autonomy but is expected to eventually be upgraded again with Drive Pilot capabilities, which link to GPS satellites and are featured on the new E-Class. The new 2020 model is therefore expected to introduce near-fully autonomous capabilities.
Mercedes driver assistance systems boss Christoph von Hugo told Autocar earlier this year that 2020 would see some Mercedes cars able to handle "critical situations", such as urban streets and junctions. The S-Class's role as the brand's most luxurious model makes it the top candidate to get this tech first.
The upcoming S-Class will benefit from the new MBUX infotainment system first installed on the latest A-Class, alongside a host of other technological updates to give the car a digitalised cabin able to fight against similarly advanced systems from Audi and BMW.
Voice control technology will enable commands to be spoken in conversational form rather than via pre-determined phrases. The car will also feature gesture control to enable contactless adjustments to ancillary operations.
The next S-Class will also increase its use of electrification, boosting the performance and range offered with the current top hybrid model, the S560e. That car combines a turbocharged V6 engine and electric motor to offer up to 31 miles of electric range that is vital to ensuring the car can be driven in cities that may soon enforce zero emissions.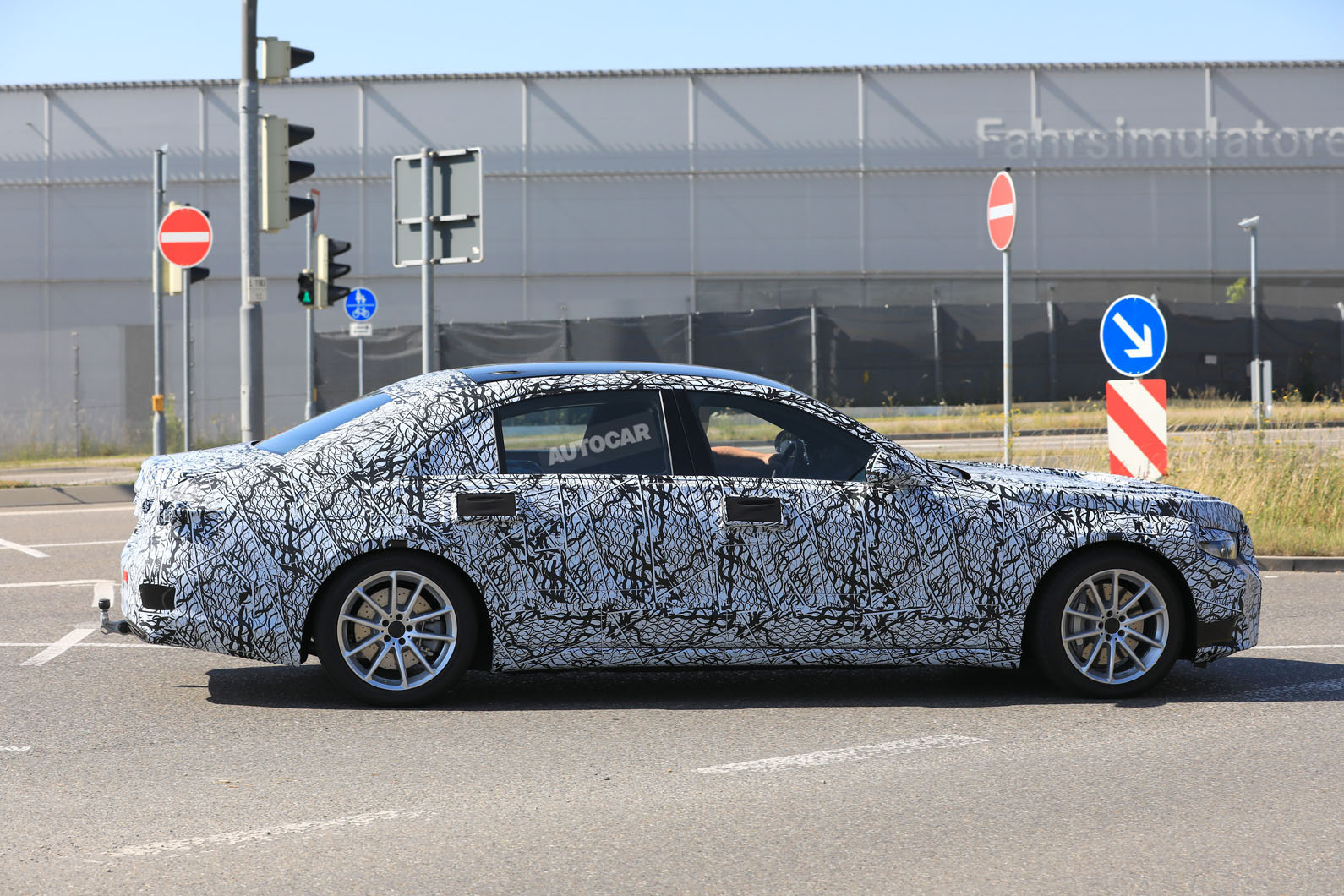 Trends suggest an all-electric version of the S-Class is inevitable at some stage, although sources do not think battery technology will be at an advanced enough stage to make it viable at the 2020 launch. Autocar understands that the space required for batteries presents a major challenge for an electric vehicle (EV) variant, with Mercedes not wanting to hamper cabin space and luxury as a result. It's highly plausible that the next-gen car will feature an EV variant later in its production life, however.
There will also be some design changes, although the recently spotted camouflaged car hides the details at this stage. However, an earlier mule, spotted last year, was based on the current S-Class and featured obviously enlarged wheel arches to hide wider tracks, suggesting the next model will be larger and therefore more spacious inside.
The S-Class is a pivotal car in Mercedes' line-up, being regularly the first model to introduce new technologies that then trickle down to the rest of the range. In 2017, the Maybach variant alone sold 25,000 units, with two-thirds of these going to China. Mercedes was the biggest-selling premium brand in 2017, beating BMW and Audi to the title, thanks to 2,289,344 sales during the year. Mercedes' 7.04% market share in the UK also bettered those of Audi and BMW, which reached 6.88 and 6.77% respectively last year.
Read more
Toyota Supra NASCAR revealed
BMW M5 long-term review